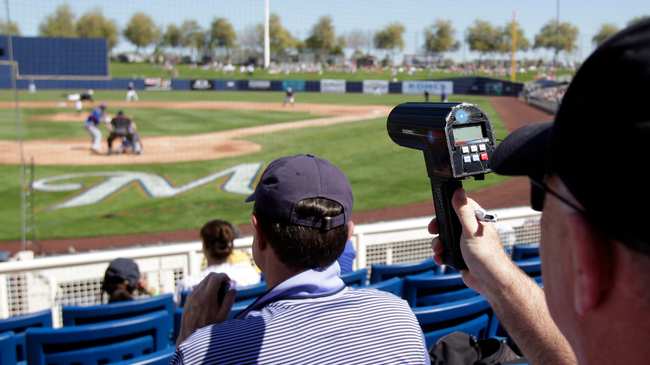 Rick Scuteri-USA TODAY Sports
Few vocabularies are as rich as the vernacular used by baseball scouts. Scout speak is practical and descriptive, yet colorful and sometimes lurid.
Taken out of context, the lingo can be alternatively oddball, which comedian Rob Delaney used to great effect in his dramatic reading of scouting terms culled by Harper's Magazine back in September 2004; gems such as "country-boy build," "slight toilet-seat hitting approach," "feel for wood," "uses hands to hit," "raw-boned physique," "muscular thighs," "good trigger," and "knows he can catch & throw."
---------------------------------------
To be clear, scouts have and always serve a valuable purpose in the baseball landscape identifying, evaluating, and projecting talent, an important companion to analytics. This compilation is merely intended to provide an informative and entertaining look at the indigenous language that arises when spending 200 or more days on the road watching ballgame after ballgame after ballgame.
VICE Sports polled several scouts, executives, and writers for their favorite scouting terms, and we compiled this entertaining sampling of a glossary:
The Good Face The consummate quality sought in every good prospect is the facial appearance of stardom. Exposed widely in pop culture in the book Moneyball when it was relayed that Billy Beane had "The Good Face," the term signifies a vague discernment of maturity, confidence, and future aptitude in the sport.
Its debut in the public domain actually came in the scouting tome, Dollar Sign on the Muscle. Former Phillies scout Gary Nickel said of "The Good Face": "It was a way of saying that a kid had charisma. It meant that he looked athletic, like a high stage in evolution—that he struck you right away as strong, forceful, manly, open instead of withdrawn." Another Phillies scout, Brandy Davis, insisted "'good face' is objective: it means he impresses you as an athlete—not a pretty boy. He's not withdrawn. He projects strength, virility, maturity." A study of Japanese baseball players in 2013, believe it or not, showed a correlation between facial structure and baseball performance.
High ass No, really, stop laughing. This is a term. Alternately referred to as "high back pockets" or a prominent "lower half," having a big posterior is said to portend good power potential. But it's more than a little weird when you think about a grandfatherly scout using the term on a teenage prospect.
Makeup There's nothing cosmetic about a ballplayer's makeup, which is an attempted qualification of his confidence, psyche, leadership virtues, and emotional stability. Does someone who flips his bat after a homerun have bad makeup? Maybe! A player highly regarded in this manner is always said to have "off the charts makeup," leading one executive to bemoan why his scouts don't get bigger charts.
-------------------
Horseshit Poor play in baseball is never bullshit or dogshit, but always horseshit, with scouts preferring the equine concoction to its bovine and canine variations. (This used to be a common coda from press box wags to the scorekeeper's recitation of a pitcher's final line; after notation of how many runs and hits a man allowed, writers would chime in, ". . . and he was horseshit," as if in an attempt to codify the sentiment into the box score.) Dollar Sign on the Muscle clarifies that bullshit does have a place as a verb or to describe one's intention, quoting a scout referring to a former co-worker by saying, "His written report was all bullshit, and that's when I knew he was a horseshit guy."
Center cut A butcher's center-cut offering is often thought to be the choicest meat, and a very hittable fastball often receives that tag for its apparent succulence to a hitter.